Nursery
Nursery School Closure
Nursery
Here is the link to a page on Liverpool City Council's website about new childcare hubs which are opening on Monday
https://liverpool.gov.uk/communities-and-safety/emergency-planning/coronavirus/hubs-for-children-of-key-workers
Covid 19 parenting Blog – This blog is written by LCC, the Early Help Team and has contributions from citywide partner organisations. This has some great tips and tricks on support available to you, home learning ideas, playing together, and most importantly managing your own and your children's well being through a difficult and uncertain time such as this.
Timetable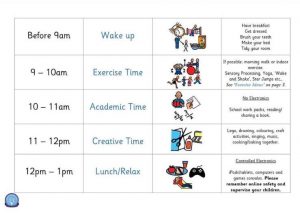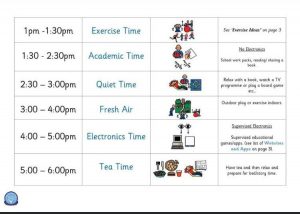 Here is a timetable that we have found that you could use to help your children stick to some routine. There are some ideas of activities that you can do for each slot and having this should allow you some space to work yourself also.
To help your child continue with their learning as best as possible during this time we have set this page up with useful links, hints and tips that you can use at home with your children.
We have been looking at the topic of spring and growth and focusing on our numbers 0-10 and 2D shapes. Below are useful websites and ideas to help your child's learning.
Spring hunt – looking for spring objects and signs of spring.

Observe bugs in the garden and draw what you can find – find out the

minibeasts

names using the internet or a book.
Plant seeds in pots and watch them grow.

Read traditional tales and recreate the story through role play.

Number/shape hunt – hide shapes/numbers around the house and go on a hunt to find them.

Go out in the garden

and draw pictures of what you can see at spring time

eg

, butterflies/caterpillars/sunshine.

Practice writing your name.
We love to learn with Squiglet in Nursery, helping us to practise holding our pencils, and practising different lines. https://www.bbc.co.uk/cbeebies/games/get-squiggling-letters-mobile
And
https://www.oxfordowl.co.uk/for-home/ – oxford owl offers free
e-books to read.
https://www.onceuponapicture.co.uk/ – Once upon a picture is an excellent resource for creating your own stories from a picture. It uses images to inspire and challenge pupil's thinking. Each picture comes with questions that could guide children.
http://www.pobble365.com/ – Pobble is another excellent resource adding a new image every day. This can also be used as a starting point for pupils allowing them to discuss or explain the image or can be used as a story start.
https://www.twinkl.co.uk/offer – The website Twinkl are offering all new users free ultimate access for a month. To use this all you need to do is to set up an account using the offer code UKTWINKLHELPS on the
https://www.twinkl.co.uk/resource/eyfs-nursery-school-closure-home-learning-resource-pack-t-tp-2549365
https://www.twinkl.co.uk/resource/eyfs-school-closure-interactive-learning-links-t-tp-2549368
https://www.topmarks.co.uk/maths-games/3-5-years/counting – the children often use top marks while in nursery, you can access number and shapes games.
https://www.gonoodle.com/ – . GoNoodle is one of the fastest adopted tech resources connecting movement, mindfulness and learning. It promotes exercise and movement for children.
https://www.phonicsplay.co.uk/ – phonics play provides online interactive games to promote phase 1 phonics. Use the free log in:
username: march20
password: home
https://www.bbc.co.uk/cbeebies?collection=bbc-childrens – provides various games, puzzles and quizzes suitable for nursery age.
If you have playdough at home you could practise strengthening your fingers by doing Dough Disco!!
PE
Science

These are two presenters from Cbeebies who have created a live stream on youtube about all things science. Why not give it a go.
https://www.youtube.com/user/maddiemoate
Music

Why not try this musical activity together
Mental health and Well being
Here is a resource that you can use with your children to start conversations about how they are feeling and how to manage those feelings.

You can upload any photographs of your learning at home. You can also tweet us @WellesbourneSch #welliestogether
Thank you for your cooperation.
The nursery team.