Year 1
Year 1 School Closure
Year One
Here is a link to a page on Liverpool City Council's website about the new childcare hubs which are opening on Monday:
https://liverpool.gov.uk/communities-and-safety/emergency-planning/coronavirus/hubs-for-children-of-key-workers/
Covid 19 parenting Blog – This blog is written by LCC, the Early Help Team and has contributions from citywide partner organisations. This has some great tips and tricks on support available to you, home learning ideas, playing together, and most importantly managing your own and your children's well being through a difficult and uncertain time such as this.

Timetable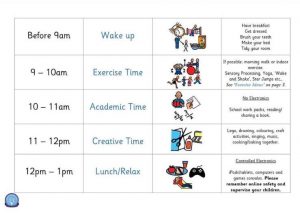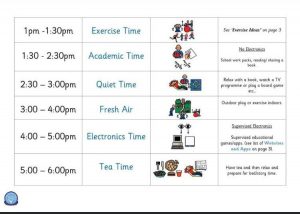 Here is a timetable that we have found that you could use to help your children stick to some routine. There are some ideas of activities that you can do for each slot and having this should allow you some space to work yourself also.
To help your child continue with their learning as best as possible during this time we have set this page up with useful links, hints and tips that you can use at home with your children.
Project
The website Twinkl are offering all new users free ultimate access for a month. To use this all you need to do is to set up an account using the offer code UKTWINKLHELPS on the link https://www.twinkl.co.uk/offer here you can download activities as well as guides and powerpoints which support children.
Numbots is a site where children can complete maths activities. The children have been given a login and password for this: https://play.numbots.com/#/intro
Phonics Play: https://www.phonicsplay.co.uk/ Login with username: march20 and password: home
Oxford Owl: https://www.oxfordowl.co.uk/for-home/ You can create a login and access free reading books that match the reading scheme in school.
Phonics Bloom: https://www.phonicsbloom.com/
Top Marks: https://www.topmarks.co.uk/ Lots of different games across a range of subjects.
ICT Games: http://www.ictgames.com/ A mix of games for English, Maths and Phonics.
Education Quizzes: https://www.educationquizzes.com/ks1/ A range of quizzes across all subjects.
Literacy Shed: https://www.literacyshed.com/home.html Contains videos and photos to stimulate ideas for writing.
ABCYA: https://www.abcya.com/grades/k Lots of educational games. This is an American website so choose grade K or grade 1.
Please continue to help children practise their phonics sounds, high frequency word spellings and read home readers.
Our Summer Topic for History will be about 'The Beatles'. Help your child find some information about them and learn some of their famous songs e.g. Love Me Do, Yellow Submarine and Twist & Shout.
In Science we are learning about Everyday Materials. Have a look at different objects you can find. What are they made of? How could you describe the object? E.g. The table is made of wood, it is hard. Access to games at BBC Bitesize: https://www.bbc.co.uk/bitesize/topics/zrssgk7
Science

These are two presenters from Cbeebies who have created a live stream on youtube about all things science. Why not give it a go.
https://www.youtube.com/user/maddiemoate
PE
Try these exercise videos as a family to help keep you moving.
Spanish
https://www.duolingo.com duolingo is a free site that you can sign up to to play games and earn coins with their avatar.
Music
This video is great for practising your hand signs for music!
this one is great for practising your musical dimensions such as pitch, rhythm and tempo!
Mental health and Well being
Here is a resource that you can use with your children to start conversations about how they are feeling and how to manage those feelings.
RE
Palm Sunday marks the start of Holy Week, which is the most important time of year for Christians. The week is marked by key moments in the dramatic last few days of Jesus' life on Earth, before his death and resurrection on Easter Sunday. Maundy Thursday commemorates the washing of the feet and the Last Supper of Jesus Christ with the Apostles. This is followed by Good Friday when Jesus is crucified and dies on the cross. However, it is not his death that Christians celebrate, it is his triumph over death and his promise of new life, which is a cause for celebration. It is for this reason that eggs, bunny rabbits and daffodils are shared at this time of year, as they all symbolise new life. Please take a look at the age-appropriate video clips below for you children:
Thank you for your co-operation during this challenging time.
We hope you all stay safe!
Year One Staff