Year 3
Year 3 School Closure
YEAR 3
Here is a link to a page on Liverpool City Council's website about the new childcare hubs which are opening on Monday:
https://liverpool.gov.uk/communities-and-safety/emergency-planning/coronavirus/hubs-for-children-of-key-workers/
Covid 19 parenting Blog – This blog is written by LCC, the Early Help Team and has contributions from citywide partner organisations. This has some great tips and tricks on support available to you, home learning ideas, playing together, and most importantly managing your own and your children's well being through a difficult and uncertain time such as this.
Timetable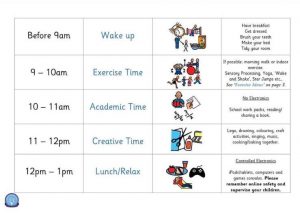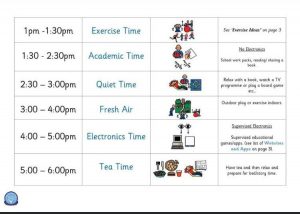 Here is a timetable that we have found that you could use to help your children stick to some routine. There are some ideas of activities that you can do for each slot and having this should allow you some space to work yourself also.
To help your child continue with their learning as best as possible during this time we have set this page up with useful links, hints and tips that you can use at home with your children.
Project
Maths
We have been looking at these topics within our Maths: fractions, length and perimeter, statistics. We would like you to look at the following topics: time, properties of shape, mass and capacity.
https://www.mathsisfun.com/worksheets/
English
In English we have been looking at setting and character, within a narrative and play-scripts. We're about to start a new book 'The Hodgeheg' by Dick King-Smith, which is available at the following website:
https://www.barhamprimary.co.uk/attachments/download.asp?file=764&type=pdf
While reading this text, please pay close attention to the dialogue, highlighting the difference between the spoken word and storytelling narrative. Please encourage your child to read with as much expression as they can muster, perhaps you and your child could play different parts to highlight the difference between characters and their voices.
https://www.oxfordowl.co.uk/for-home/find-a-book/library-page?view=image&query=&type=book&age_group=Age+6-7&book=1&book_type=&series=#
https://www.cgpbooks.co.uk/resources/ks2-sats-online-10-minute-tests
https://www.twinkl.co.uk/resources/literacy/story-resources/story-books-ebooks
https://www.booktrust.org.uk/books-and-reading/have-some-fun/storybooks-and-games/
Topic
The children have just completed a Geography topic about Europe, which involved looking at capitals, rivers, and the difference between continents, countries and areas. The children also looked at famous landmarks across Europe, including; the Eiffel Tower, Stonehenge and St. Basil's Cathedral in Moscow. We would encourage you and your child to explore other landmarks across Europe, including Russia. The focus should be on their origin, the reason they are significant and why so many people choose to visit this landmark.
We are about to start the topic looking at the legacy of Ancient Greek culture and its impact on British society. The questions to explore would be who were the Ancient Greeks, why are they important and what legacy have they had upon the world. Previously, children have really enjoyed researching the monsters and heroes of the Ancient Greek world. A useful website is:
https://www.bbc.co.uk/bitesize/topics/z87tn39
https://osmaps.ordnancesurvey.co.uk/
Science
We're about to start a new topic in Science looking at Rocks and Fossils; looking at types of rocks, characteristic of different types of rocks, investigations of rocks, how rocks become soil, how fossils are formed and comparing different types of soil.
https://www.bbc.co.uk/bitesize/subjects/z2pfb9q
PE
Try these yoga and exercise videos together as a family:
Cosmic yoga

The Body Coach


Music
Why not try this video to help with your singing, and your musical dimensions such as pitch, tempo, dynamics and more.
Spanish
This app allows you to keep practising your Spanish. It is free to sign up, children can play games every day and earn points the more they use it.
Useful websites for your year group for other topics
The website Twinkl are offering all new users free ultimate access for a month. To use this all you need to do is to set up an account using the offer code UKTWINKLHELPS on the link https://www.twinkl.co.uk/offer here you can download activities as well as guides and powerpoints which support pupils.
Once upon a picture is an excellent resource for writing. It uses images to inspire and challenge pupil's thinking. Each picture comes with questions that could guide children. You could even take this further and create their own stories using the image as a starting point for their adventure. These can be found at https://www.onceuponapicture.co.uk/
Pobble is another excellent resource adding a new image every day. This can also be used as a starting point for pupils allowing them to discuss or explain the image or can be used as a story start. Activities like this are also excellent at developing key skills in reading such as inference and deduction. This can be found at http://www.pobble365.com/
Times tables
All of our pupils have a log in for TimesTable rockstars. A few minutes a day practising times tables is an excellent way for pupils to practise valuable skills. They can log on at https://ttrockstars.com/
Spellings
This simple word mat features key vocabulary for the new curriculum spelling lists for years 3 and 4. 
A great resource to keep on hand as a prompt and spelling reference during independent writing tasks and other activities.
https://www.twinkl.com.qa/resource/t2-e-2064-new-curriculum-spelling-list-years-3-and-4-word-mat
https://www.twinkl.co.uk/resource/tp2-e-346-year-3-term-2a-bumper-spelling-pack
Spanish
| | |
| --- | --- |
| English/Inglés | Spanish/Espagnol |
| Cat | Un perro |
| Dog | Un gato |
| Elephant | Un elefante |
| Lion | Un léon |
| Camel | Un camello |
| Monkey | Un mono |
| Hamster | Un hámster |
| Fish | Un pez |
| Snake | Una serpiente |
| Giraffe | Una jirafa |
| Frog | Una rana |
| | |
| Red | Rojo |
| Blue | Azul |
| Yellow | Amarillo |
| Green | Verde |
| Orange | Naranja |
| Purple | Lila |
| Pink | Rosa |
| Brown | Marrón |
| Grey | Gris |
| White | Blanco |
| Black | Negro |
| | |
| Small | Pequeño/a |
| Tall | Grande |
| Medium-sized | Mediano/a |
| Grumpy | Gruñón/a |
| Scary | Espantoso/a |
| Naughty | Travieso/a |
| Restless | Agitado/a |
| Perfect | Perfecto/a |
| Fierce | Feroz |
General
http://www.primaryresources.co.uk/
https://www.bbc.co.uk/teach/primary/zd7p47h
http://www.primaryhomeworkhelp.co.uk/
https://www.educationquizzes.com/
We hope these websites will be helpful in educating your child during this period. We wish you and your family well, and we look forward to seeing you once the school reopens.
Mental health and Well being
Here is a resource that you can use with your children to start conversations about how they are feeling and how to manage those feelings.
RE
Palm Sunday marks the start of Holy Week, which is the most important time of year for Christians. The week is marked by key moments in the dramatic last few days of Jesus' life on Earth, before his death and resurrection on Easter Sunday. Maundy Thursday commemorates the washing of the feet and the Last Supper of Jesus Christ with the Apostles. This is followed by Good Friday when Jesus is crucified and dies on the cross. However, it is not his death that Christians celebrate, it is his triumph over death and his promise of new life, which is a cause for celebration. It is for this reason that eggs, bunny rabbits and daffodils are shared at this time of year, as they all symbolise new life. Please take a look at the age-appropriate video clips below for you children:
Please tweet any pictures of you getting up to fun with your family and learning together at @WellesbourneSch #Welliestogether
Kind regards,
Mr. Bulger, Mr. Kingsley and Miss Rowan.