Year 5
Year 5 School Closure
Year 5
Here is a link to a page on Liverpool City Council's website about the new childcare hubs which are opening on Monday:
https://liverpool.gov.uk/communities-and-safety/emergency-planning/coronavirus/hubs-for-children-of-key-workers/
Covid 19 parenting Blog – This blog is written by LCC, the Early Help Team and has contributions from citywide partner organisations. This has some great tips and tricks on support available to you, home learning ideas, playing together, and most importantly managing your own and your childrens well being through a difficult and uncertaintime such as this.

Timetable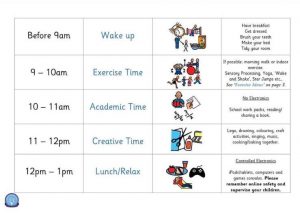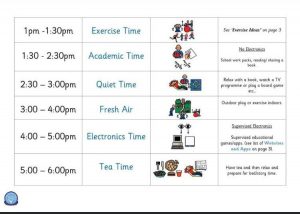 Here is a timetable that we have found that you could use to help your children stick to some routine. There are some ideas of activities that you can do for each slot and having this should allow you some space to work yourself also.
To help your child continue with their learning as best as possible during this time, we have set this page up with useful links, hints and tips that you can use at home with your children.
We have been looking at these topics within our Maths/English/Topic/Science lessons.
Children need to be reading daily. They should read their home readers and/or another book and write a book review. Free books can be accessed at the same level as their home readers on the website below. Click on levels, then book band, then find your child's current level.
Project
Reading
https://www.oxfordowl.co.uk/for-home/find-a-book/library-page/
Maths
https://www.topmarks.co.uk/Search.aspx?q=telling+time Children need to know how to tell the time. Please support them with these skills with analogue, digital and using timetables.
All of our pupils have a log in for TimesTable rockstars. A few minutes a day practising times tables is an excellent way for pupils to practise valuable skills. They can log on at https://ttrockstars.com/ Also, use numbots, which includes basic number skills practice on the Times Tables Rockstars site.
All Subjects
The website Twinkl are offering all new users free ultimate access for a month. To use this all you need to do is to set up an account using the offer code UKTWINKLHELPS on the link https://www.twinkl.co.uk/offer here you can download activities as well as guides and powerpoints which support pupils.
https://www.educationquizzes.com/ks2/ online quizzes for a range of subjects.
Create a Twinkl account (see above) then use this link https://www.twinkl.co.uk/resource/year-5-school-closure-home-learning-resource-pack-t-e-2549914 or search in the search bar on Twinkl for Year 5 School Closure Home Learning Resource Pack, which includes Science, English, Maths etc.
Writing
Once upon a picture is an excellent resource for writing. It uses images to inspire and challenge pupil's thinking. Each picture comes with questions that could guide children. You could even take this further and create their own stories using the image as a starting point for their adventure. These can be found at https://www.onceuponapicture.co.uk/
Pobble is another excellent resource adding a new image every day. This can also be used as a starting point for pupils allowing them to discuss or explain the image or can be used as a story start. Activities like this are also excellent at developing key skills in reading such as inference and deduction. This can be found at http://www.pobble365.com/
History
http://primaryhomeworkhelp.co.uk/war/index.htm Children should research and produce some work on the blackout, home guard, gas masks, fashion, school and children during the war.
http://historyofliverpool.com/ find the section on The Blitz.
Science
The children are currently learning about Living things and their habitats, which includes pollination, and the characteristics of different animal groups e.g. amphibians, fish, birds, reptiles, mammals, insects, etc.
https://www.bbc.co.uk/programmes/b008044n Blue Planet has some fascinating clips, but you may want to watch these yourselves first to check the content.
https://www.bbc.co.uk/teach/class-clips-video/science-ks1-ks2-what-is-pollination-and-how-does-it-work/zv4df4j Clip on pollination.
https://www.bbc.co.uk/search?q=pollination Clips on pollination.
Children should research pollination and explore how this happens and the steps involved. Again, Twinkl can help with this.
Spelling to learn
| | | | | |
| --- | --- | --- | --- | --- |
| vegetable | vehicle | bruise | soldier | stomach |
| recommend | leisure | privilege | occur | neighbour |
| certainly | definitely | possibly | perhaps | probably |
| frequently | often | occasionally | always | rarely |
| equipment | environment | government | parliament | enjoyment |
| | | | | |
| --- | --- | --- | --- | --- |
| document | management | movement | replacement | statement |
Spanish
| | |
| --- | --- |
| English/Inglés | Espagnol |
| Living room | Un salón |
| Study/office | Un estudio |
| Kitchen | Una cocina |
| Bedroom | Un dormitorio |
| Dining room | Un comedor |
| Bathroom | Un quarto de baño |
| | |
| Bed | Una cama |
| Rug | Una alfombra |
| Desk | Un escritorio |
| TV | Un televisor |
| Lamp | Una lámpara |
| Chair | Una silla |
| Chest of drawers | Una cómmoda |
| Poster | Un poster |
| | |
| On | Encima de |
| Under | Debajo de |
| In | Dentro de |
| In front of | Delante de |
| Behind | Detrás de |
| Next to | Al aldo de |
| | |
| 10 | Diez |
| 20 | Veinte |
| 30 | Treinta |
| 40 | Cuarenta |
| 50 | Cincuenta |
| 60 | Sesenta |
| 70 | Setenta |
| 80 | Ochenta |
| 90 | Noventa |
| 100 | Cien |
This app allows you to keep practising your Spanish. It is free to sign up, children can play games every day and earn points the more they use it.
PE
Try these workout videos with your family.
Music
Try this website to help with music theory and learning to read notes on a stave
https://makingmusicfun.net/htm/mmf_music_library_classroom_teacher.php this has lots of fun activities such as colouring in sheets, music code breakers, composer biographies and lots more.
use my log in for free ultimate downloads
username: misspwb
password : wellies123
Why not try this video to keep up with your singing and your musical dimensions such as pitch, rhythm, tempo and more.
Mental health and Well being
Here is a resource that you can use with your children to start conversations about how they are feeling and how to manage those feelings.
RE
Palm Sunday marks the start of Holy Week, which is the most important time of year for Christians. The week is marked by key moments in the dramatic last few days of Jesus' life on Earth, before his death and resurrection on Easter Sunday. Maundy Thursday commemorates the washing of the feet and the Last Supper of Jesus Christ with the Apostles. This is followed by Good Friday when Jesus is crucified and dies on the cross. However, it is not his death that Christians celebrate, it is his triumph over death and his promise of new life, which is a cause for celebration. It is for this reason that eggs, bunny rabbits and daffodils are shared at this time of year, as they all symbolise new life. Please take a look at the age-appropriate video clips below for you children:
We would love to see what you are getting up to and stay in contact, tweet us with pictures of what your up to @WellesbourneSch #welliestogether
Thank you for your co-operation during this challenging time.
Year 5 staff.