Year 6
Year 6 School Closure
Year 6
Here is a link to a page on Liverpool City Council's website about the new childcare hubs which are opening on Monday:
https://liverpool.gov.uk/communities-and-safety/emergency-planning/coronavirus/hubs-for-children-of-key-workers/
Covid 19 parenting Blog – This blog is written by LCC, the Early Help Team and has contributions from citywide partner organisations. This has some great tips and tricks on support available to you, home learning ideas, playing together, and most importantly managing your own and your childrens well being through a difficult and uncertaintime such as this.
Timetable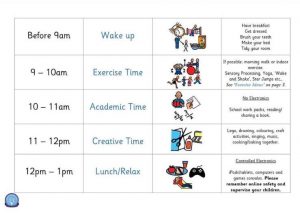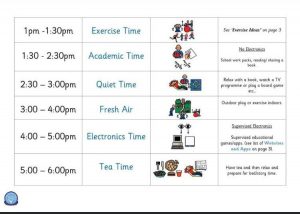 Here is a timetable that we have found that you could use to help your children stick to some routine. There are some ideas of activities that you can do for each slot and having this should allow you some space to work yourself also.
To help your child continue with their learning as best as possible during this time, below are suggested activities for them to complete.
Project
Maths Revision

Maths CGP SATS Question Book– Work through the pages that we have not yet completed in class. We would suggest 2 pages per day.
Times Table Rockstars/ Numbots– Log on at https://ttrockstars.com/ or https://play.numbots.com/ and use the TTRS log-in details for both. Numbots will start off with basic numbers then become more challenging as they demonstrate their ability.
English

Spelling Book– We would suggest 2 pages per day.
English SATS Question Book – Work through at their own pace.
Home reader- continue to read regularly at home (this could be their school reading book or any book of their choice).
History
Research the 90's – Entertainment, music, fashion, sporting events and major events.
Write or type up findings. This will help us to write a chronological report when we return to school.
Useful websites
Twinkl

are offering all new users free ultimate access for a month. To use this all you need to do is to set up an account using the offer code

UKTWINKLHELPS

on the

link

https://www.twinkl.co.uk/offer

here you can download activities as well as guides and

powerpoints

which support pupils.

Once upon a picture

is an excellent resource for writing. It uses images to inspire and challenge pupil's thinking. Each picture comes with questions that could guide children. You could even take this further and create their own stories using the image as a starting point for their adventure. These can be found at

https://www.onceuponapicture.co.uk/
PE
Try these videos out together as a family to help stay fit.
Spanish
| | |
| --- | --- |
| English/Inglés | Espagnol |
| Living room | El salón |
| Entrance hall | La entrada |
| Kitchen | La cocina |
| Bedroom | El dormitorio |
| Garden | El comedor |
| Bathroom | El jardin |
| | |
| On | Encima de |
| Under | Debajo de |
| In | Dentro de |
| In front of | Delante de |
| Behind | Detrás de |
| Next to | Al aldo de |
| | |
| El hijo/la hija | Son/daughter |
| El padre/la madre | Father/mother |
| Le primo/la prima | Cousin (m/f) |
| El tio/la tia | Uncle/aunt |
| El sobrino/la sabrina | Nephew/niece |
| | |
| 10 | Diez |
| 20 | Veinte |
| 30 | Treinta |
| 40 | Cuarenta |
| 50 | Cincuenta |
| 60 | Sesenta |
| 70 | Setenta |
| 80 | Ochenta |
| 90 | Noventa |
| 100 | Cien |
This app allows you to keep practising your Spanish. It is free to sign up, children can play games every day and earn points the more they use it.
Music
https://makingmusicfun.net/htm/mmf_music_library_classroom_teacher.php
There are loads of free music theory sheets and composer biographies to help.
this has theory lessons and exercises that children can take part in.
Why not try this video to keep up with your singing and your musical dimensions such as pitch, rhythm, dynamics and more.
ICT
have a look at other people games on this and see if you can have a go at coding your own.
https://www.barefootcomputing.org/primary-computing-resources
This has free resources where you wont always need a computer to complete the work.
Try and code your way around the house.
Mental health and Well being

Here is a resource that you can use with your children to start conversations about how they are feeling and how to manage those feelings.
RE
Palm Sunday marks the start of Holy Week, which is the most important time of year for Christians. The week is marked by key moments in the dramatic last few days of Jesus' life on Earth, before his death and resurrection on Easter Sunday. Maundy Thursday commemorates the washing of the feet and the Last Supper of Jesus Christ with the Apostles. This is followed by Good Friday when Jesus is crucified and dies on the cross. However, it is not his death that Christians celebrate, it is his triumph over death and his promise of new life, which is a cause for celebration. It is for this reason that eggs, bunny rabbits and daffodils are shared at this time of year, as they all symbolise new life. Please take a look at the age-appropriate video clips below for you children:
We would love to keep in contact and see what you are getting up to. Send us pictures and updates on twitter @WellesbourneSch #welliestogether
Thank you for your co–operation
Miss Barton and Miss Jones